Xavien Howard wants out of Miami. The All-Pro cornerback revealed on Instagram this evening that he's requested a trade from the Dolphins (via ESPN's Adam Schefter on Twitter).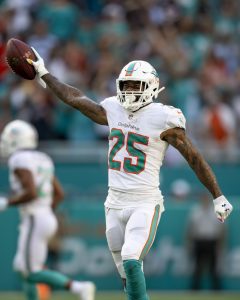 This trade demand follows Howard's previous decision to skip mandatory minicamp in pursuit of a new contract. We recently heard that the defensive back was "dug in" on the contract issue, and it was anticipated that he'd stay away from the organization until the situation was resolved. Instead, the apparent standoff has evolved into a full-blown trade request.
In his statement, Howard said the "business side of the NFL proves organizations don't always have a player's best interest at heart," citing the extension that he didn't "feel comfortable" signing a few years ago. Howard also noted that he'll continue to attend training camp to avoid any fines.
"We wanted things to work out with the Dolphins, and brought solutions to the table – like guaranteeing more money – that we felt were win-wins for both sides," Howard continued. "These were proposal of adjustments that wouldn't just make me feel more respected, but were also cap friendly. But the Dolphins refused everything we proposed.
"That is why I don't feel the organization has dealt with me in good faith. I don't feel valued or respect by the Dolphins. Just like they can take a business-first approach, so can I…That's why I want to make it clear that I'm not happy and have requested a trade."
Howard is coming off a tremendous season, intercepting a league-leading 10 passes (the second time in three seasons he has paced the NFL in INTs), and grading out as the second-best CB in the league per Pro Football Focus' advanced metrics. Though the five-year, $75MM pact Howard signed with the Dolphins in 2019 made him the highest-paid corner in the league at the time, his $15MM AAV is now the sixth-highest mark in football (one spot behind teammate Byron Jones, who is not as good as Howard but who was lucky enough to sign his free agent contract one year later). We learned late last month that Howard was seeking a deal that would at least exceed his teammate's contract.
Howard's situation is different than standard contract standoffs considering he has four years remaining on his contract. Whereas a player with one or two years left on his deal would be an easy candidate for a renegotiated pact, a player with Howard's term would be eyeing a practically unprecedented reworking. Head coach Brian Flores seemed to hint at that "unique situation" back in June.
"After one year, it's honestly something that hasn't been done before," Flores said of Howard's then-request for a new contract. "Not saying we're drawing a line in the sand, but different players set the market every year."
While the Dolphins would surely rather have Howard in uniform, not all is lost, as teams would surely be willing to trade for a player of his caliber. We've already heard that the Saints could be a potential landing spot, and Albert Breer of TheMMQB.com tweets that the Cowboys previously reached out about the cornerback.
Photo courtesy of USA Today Sports Images.