The Dolphins have been heavily connected to Tua Tagovailoa for months, but they're far from locked in on him. The Dolphins have concerns about Tagovailoa's ability to recover from his serious hip injury and, beyond that, they're worried about his long-term durability, sources tell Armando Salguero of the Miami Herald. At the same time, they've been drawn more and more to Oregon star Justin Herbert, sources say.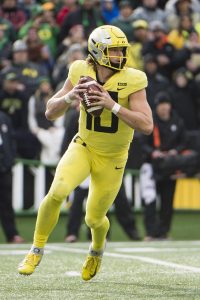 [RELATED: Charges Against Dolphins' Xavien Howard Dropped]
Even owner Stephen Ross has spoken on the record about Tagovailoa's question marks. It's a debate that will take place in the front office of any team considering the quarterback – had he stayed healthy, Tagovailoa likely would have been the consensus No. 1 overall pick. Now, teams need to take a close inspection of his hip and also weigh the effects of his previous ankle injuries.
With the No. 5 pick, the Dolphins could have every QB available to choose from, with the exception of LSU's Joe Burrow. Their concerns about Tagovailoa could lead them to Herbert, who boasts arm strength, size (he stands at 6'6″; one inch taller than Ben Roethlisberger), and the ability to escape pressure in a collapsing pocket.
By the same token, Tagovailoa has been the much more accurate passer of the two and has demonstrated superior field vision. The latest news doesn't mean that the Dolphins will select Herbert at No. 5 overall, but it's a strong reminder that draft plans are far from settled in February.
Photo courtesy of USA Today Sports Images.