Xavien Howard wants out. However, Dolphins head coach Brian Flores says that his star cornerback is staying put.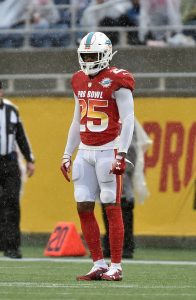 "We don't want to trade X. Write that down. He's a very good player. He's a big part of the team. We don't want to trade him," Flores said on Friday (Twitter link via NFL.com's Cameron Wolfe). "Talks are progressing. You take from that what you want… As long as everyone is willing to compromise, we can get something done."
Howard skipped mandatory minicamp this summer in an effort to secure a deal from the Dolphins. He signed his last contract just a few years ago but the market has advanced considerably since then. His current $15MM AAV has him ranked sixth at the cornerback position. Teammate Byron Jones doesn't have as strong of a resume, but he ranks No. 5 on that list.
"[The] business side of the NFL proves organizations don't always have a player's best interest at heart," Howard said on social media recently, adding that he didn't "feel comfortable" with the extension he inked just a few years ago.
"We wanted things to work out with the Dolphins, and brought solutions to the table – like guaranteeing more money – that we felt were win-wins for both sides," Howard continued. "These were proposal of adjustments that wouldn't just make me feel more respected, but were also cap friendly. But the Dolphins refused everything we proposed…That is why I don't feel the organization has dealt with me in good faith."
Howard notched ten interceptions last year to lead the NFL, the second time he's led the way in just three years. He also graded out as the second-best corner in the league, per Pro Football Focus' advanced metrics. The Dolphins have already received multiple calls on Howard, but it doesn't sound like they'll move him between now and Week 1.
Photo courtesy of USA Today Sports Images.