Feb. 28: The Dolphins' infatuation with Love is only intensifying, as Adam H. Beasley of the Miami Herald writes. However, Love's stock appears to be rising around the league and the belief is that Miami will not be able to wait until the No. 18 overall pick to grab him. The organization thinks that a QB-needy team like the Chargers or Panthers are gearing up to jump the Dolphins' No. 5 selection in order to take Tagovailoa, which would likely leave the 'Fins with their choice of Herbert or Love. If that's the case, it's looking more like a toss-up between those two passers, though Herbert was very impressive during his throwing drills at the combine while Love had more of a mixed performance.
The Dolphins, with a number of holes to fill, do not want to part with their own hard-earned draft capital in order to guarantee themselves a shot at Tagovailoa. If the Bengals' No. 1 choice — and therefore Burrow — were up for grabs, it may be a different story, but the team seems content with either Herbert or Love at this point.
Feb. 26: The Dolphins have been heavily connected to Tua Tagovailoa and Justin Herbert in recent weeks, but they're taking all of this year's top quarterbacks in this year's draft. One player they're particularly intrigued by is Utah State standout Jordan Love, Armando Salguero of the Miami Herald hears.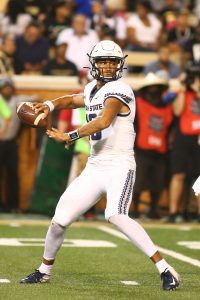 Love isn't as high on the mock draft boards and he's probably not a candidate for the No. 5 overall pick (though, we've been surprised before, particularly when it comes to QBs). The Dolphins, in theory, could target Love with one of their later picks – No. 18 or No. 26 overall – and strengthen up another area with their top choice.
At 6'4″ and 225 pounds, Love has great size for the position. He also looked the part of a top-end QB in 2018 by throwing 32 touchdowns against six interceptions. Unfortunately, his arm strength and stature didn't yield the same results last year – he had 20 TDs against 17 INTs. That performance hurt his draft stock, but teams like the Dolphins may see this as a value opportunity.
Besides, LSU's Joe Burrow probably won't be there for the Dolphins at No. 5 overall and the other top signal callers in this year's crop come with their own question marks. Tagovailoa, of course, is recovering from a major hip injury. And many are quick to point out Herbert's accuracy issues, even when praising his cannon.
As Salguero notes, we've plenty of QBs struggle as seniors and succeed in the NFL, including Matt Ryan and Dan Marino. Love, too, could rebound from his rocky year, and he might get to do it in South Beach.
Photo courtesy of USA Today Sports Images.