This is breaking news. Please refresh for updates.
Jordan Howard's time in Miami has come to an end. The Dolphins have cut the running back, head coach Brian Flores announced during his press conference on Monday.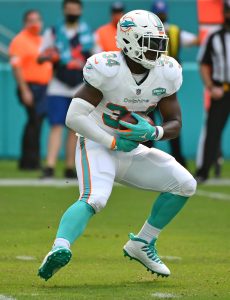 Interestingly, Flores deemed it a "mutual parting," which likely has something to do with Howard being frustrated with his limited role. Even though he's a vested veteran since it's this late in the season, Howard will be subjected to waivers. We heard a couple of weeks ago that Howard might be available in a trade, but clearly there weren't any takers. Still, he could be a target of some contending teams looking for running back help.
Howard signed a two-year, $9.75MM deal with Miami back in March, and they proved to regret it almost immediately. He started the first two games but only carried the ball 13 times for 11 yards, and quickly took a backseat to Myles Gaskin and Matt Breida. He's mostly been inactive recently. All told, he'll finish his Dolphins tenure with a pitiful 33 yards on 28 attempts through five games, although he did score four touchdowns.
A fifth-round pick of the Bears in 2016, Howard became Chicago's starter as a rookie and spent his first three seasons as their lead back. The Indiana product slowly fell out of favor with Matt Nagy, and was shipped out to Philadelphia before the 2019 season. Last year with the Eagles he was relatively productive, rushing the ball 119 for 525 yards and six scores. Howard's salary isn't guaranteed for 2021 and he's only owed around $721K for the rest of this year (per this tweet from Field Yates of ESPN.com), so it's certainly not inconceivable that a team will claim him.