The Dolphins seem committed to Tua Tagovailoa, and they're now pairing their young quarterback with his dynamic college teammate. Miami selected Alabama receiver Jaylen Waddle with the sixth-overall pick.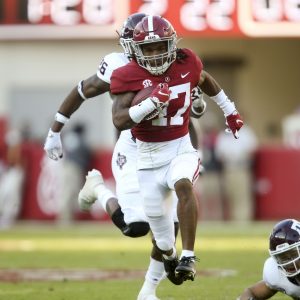 Waddle had established himself as one of the top receivers in the draft alongside LSU's Ja'Marr Chase, (who went at No. 5 to the Bengals) and former college teammate DeVonta Smith. He cemented his status as a top-10 pick during his pro day, as he posted a 4.38-second 40-yard dash, a number that even surprised the LSU star ("I was going for a low 4.4," Chase said).
Early on in his career, Waddle was largely overshadowed by the likes of Jerry Jeudy and Henry Ruggs III – two eventual first-round picks. After they left Tuscaloosa, Waddle was primed to assert himself as Bama's top wide receiver in 2020. In his first six games, Waddle went off for 28 catches and 591 yards — good for 21.2 yards per catch on average — plus four touchdowns. He also kept up his strong work in the return game, giving evaluators even more opportunities to gawk at his speed on film. Unfortunately, his final return of the regular season came against Tennessee, couching his season up until the National Championship game against Ohio State.
Despite the ill-timed injury, Waddle remained one of this year's most highly-coveted prospects. His injured ankle even kept him from running the 40-yard-dash for scouts this year — that hasn't slowed him down either. Waddle was clocked at 4.37 seconds before he even stepped foot on campus. And, depending on who you ask, he could even be a shade faster than Ruggs on the field. Ruggs, for reference, clocked a 4.27-second 40-time last year. Waddle can accelerate, stop on a dime, and throttle his way past the coverage, meaning he should have the skills to contribute right away.
The Dolphins spent on Will Fuller earlier this offseason, pairing him with standout DeVante Parker. Now, Tua will have another talented target to pass to, and there's a good chance the rookie climbs to the top of the depth chart before long.
Photo courtesy of USA Today Sports Images.