The Dolphins seem intent on heading into 2020 with Ryan Fitzpatrick as their bridge to a rookie quarterback. That leaves Josh Rosen without much of a role, but that won't necessarily result in the former first-round pick being pushed out of Miami. Rosen is likely to stay on the roster, Armando Salguero of the Miami Herald hears.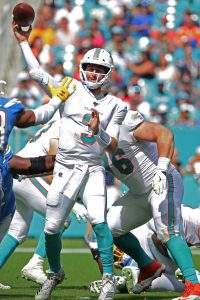 [RELATED: Dolphins Cooling On Tua, Warming Up To Herbert?]
From a fiscal standpoint, the Dolphins would have little reason to release Rosen. Still on his rookie deal, Rosen is slated to count for just $2.079MM against the 2020 cap. Releasing him would only leave them with a larger dead money hit and zero savings. Cutting Rosen would also be bad optics – they shipped a second-round pick, plus a fifth-round choice, to the Cardinals for him just one year ago.
Rosen hasn't shown much at the pro level, but he's still only 23 and not far removed from his impressive game film at UCLA. There's always the possibility that injuries elsewhere lead to trade interest in Chosen Rosen between now and September. Granted, the Dolphins won't have a ton of leverage if they're rostering Tua Tagovailoa, Justin Herbert, or another top rookie QB alongside Fitz.
For his part, Rosen has indicated that he wants to stay in Miami, even though that means playing second fiddle to a 37-year-old.
"I'm very encouraged just in general day to day, in how I've developed and watching Fitz do his thing," Rosen said in December, some time after losing his starting job. "It's not really the window is opened and closed like that. But there's a sense of understanding time and opportunity. I'm aware of it, but it's all for you guys to write about more than for me to worry about. Opportunities will come and I'll try to seize them."
Photo courtesy of USA Today Sports Images.