Will Tom Brady join up with the Dolphins this offseason? Owner Stephen Ross says that's not likely to happen.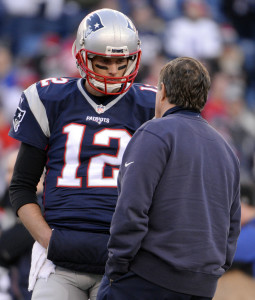 "We're a team that's building, and I don't know why he'd really want to come to the Dolphins," Ross said recently (via Barry Jackson of the Miami Herald). "He's been one of the fiercest competitors there is and we're at the stage with the Dolphins trying to really build a team for the future," Ross said.
That's more or less what you'd expect to hear from an owner who doesn't want to deal with tampering accusations, but Jackson hears that Ross was telling the truth – he's not expecting Brady to walk through that door and the Dolphins are unlikely to make a strong push for him.
For the last couple of weeks, there has been increasing buzz about the future Hall of Famer taking his talents to South Beach. The theory goes something like this: Brady is close to Bruce Beal, a business partner of Stephen Ross. Beal holds an option to buy the Dolphins from Ross and could, in turn, sell a minority stake in the team to Brady. Brady, potentially, could boost the value of the club in his twilight years by playing in Miami, but Ross, 79, says he plans on being the Dolphins' owner for the rest of his life.
The Dolphins might not build their offseason around a Brady pursuit, but the Raiders are expected to make a strong push for him and there's also buzz around the possibility of the Chargers making a play for him as Philip Rivers nears free agency. Meanwhile, the incumbent Patriots are prepared to pay Brady upwards of $30MM/year on his next contract, if he's willing to stay.
Brady, 43 in August, completed just 60.8% of his throws last year – his lowest success rate since 2013. His 88.0 QB rating wasn't anything to write home about, either, though he still managed to throw for 4,057 yards with 24 touchdowns against eight interceptions.