Tua Tagovailoa was at the heart of controversy and speculation heading into last night's game, and his health status remains a major talking point today. The Dolphins QB was sacked, then suffered a head injury which left him on the ground for several minutes. He was ultimately stretchered off the field and taken to a local hospital, where he was alert and had full movement in his extremities.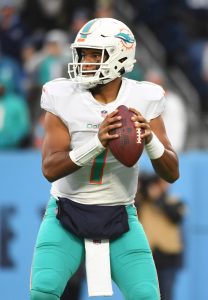 The episode would have been noteworthy in its own regard, but was doubly so given the hit Tagovailoa sustained on Sunday which caused him to stumble and briefly leave the game. The team's handling of his situation has since become the subject of an NFLPA investigation, which is ongoing. While it appears at this point that the Dolphins correctly followed concussion protocol in that instance, the fact that the 24-year-old suffered a major injury after playing on a short week has drawn the ire of the player's union.
NFLPA executive director DeMaurice Smith texted a message to current and former association members, via Pro Football Talk's Mike Florio, which reads, "We insisted on these rules to avoid exactly this scenario. We will pursue every legal option, including making referrals against the doctors to licensing agencies and the team that is obligated to keep our players safe."
When asked about the potential connection between the two injuries and the team's decision to play Tagovailoa in spite of the quick turnaround, head coach Mike McDaniel reiterated his confidence in the Alabama product's recovery from Sunday's game and the team's compliance with concussion-related procedures. He said, via NFL.com's Grant Gordon, "I don't think that an injury from last week made him fall the same way this week, but yeah, I do not have any, like absolutely zero patience for, or will ever put a player in position for them to be in harm's way.
"There's an independent specialist that specializes in specialty brain matter, so for me, as long as I'm coaching here, I'm not going to fudge that whole situation… People don't vary or stray [from protocol]; we don't mess with that, we never have as long as I've been head coach, so it'd never be an issue that you guys have to worry about."
Tagovailoa travelled back to Miami with the team while wearing a neck brace, per Josina Anderson of CBS Sports (Twitter link). She adds that initial scans showed nothing broken in his neck or spine, and that he will undergo an MRI after arrival. While his short-and long-term recovery timetable will be worth monitoring, this situation will also be underscored by other storylines for the foreseeable future.