For years the Dolphins have lacked quality receivers, but now they actually have an abundance of depth at the position. It's a good problem to have, but it also means that some solid players could be on the outside looking in when we get to roster cut-downs.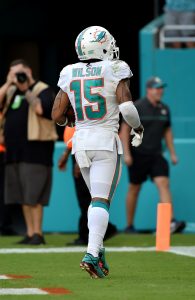 There's a lot of uncertainty at the position and a lot to sort through, and fortunately Barry Jackson of the Miami Herald just broke it all down. Albert Wilson flashed a ton of potential during his first season with the Dolphins in 2018, but injuries hampered him then and in 2019. He then opted out of the 2020 season, leading many to believe he'd be on the roster bubble this time around. However, it appears that he's safe. Wilson is "going to be on the team," Jackson writes, noting he's been the most consistent receiver in camp.
The same can't be said for 2020 third-round pick Lynn Bowden. The Kentucky product has "gone from slight front-runner to make the team to very much on the bubble with an underwhelming camp," despite being the 80th overall pick just last year. In 10 games and four starts last year, Bowden had 28 catches for 211 yards.
Meanwhile, there's some bad news on Preston Williams. The 2019 UDFA has looked like a diamond in the rough find the past couple years, but he apparently isn't over the Lisfranc foot injury that cut his 2020 short. Although the team "originally was optimistic that Williams would be fine to start the season," the Colorado State product now "appears iffy at best" for Week 1.
Jackson writes that Williams is a candidate to start the year on the PUP list, which would sideline him for the first six games. He also says the "odds are against" veteran Allen Hurns making the 53, even though Hurns has $1.2MM in guaranteed money coming his way.
Jackson also expects the Dolphins to be open to a potential trade of Jakeem Grant if a team in need of a returner is willing to part with a late-round pick. In addition to all these guys, Miami still has Will Fuller, DeVante Parker, and rookie first-rounder Jaylen Waddle at the top of the depth chart.