Xavien Howard wants out and plenty of teams are willing to help. Two playoff teams have called the Dolphins the cornerback following his latest trade request (Twitter link via NFL.com's Ian Rapoport). Other clubs have called too, setting the stage for a summer blockbuster.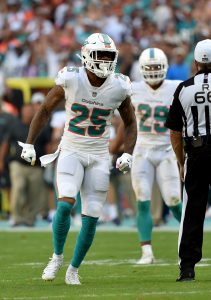 Howard skipped mandatory minicamp in an effort to get a new deal from the Dolphins. That hasn't worked — at least not yet. The All-Pro cornerback still has multiple seasons to go on his contract and the Dolphins want him to stick to the current agreement.
"[The] business side of the NFL proves organizations don't always have a player's best interest at heart," Howard said on social media this week, adding that he didn't "feel comfortable" with the extension he inked just a few years ago.
"We wanted things to work out with the Dolphins, and brought solutions to the table – like guaranteeing more money – that we felt were win-wins for both sides," Howard continued. "These were proposal of adjustments that wouldn't just make me feel more respected, but were also cap friendly. But the Dolphins refused everything we proposed…That is why I don't feel the organization has dealt with me in good faith."
Howard notched ten interceptions last year to lead the NFL. That marked the second time he's led the way in just three years. He also graded out as the second-best corner in the league, per Pro Football Focus' advanced metrics. Meanwhile, his current $15MM AAV has him ranked sixth at the position. Teammate Byron Jones is No. 5 on that list — another reason why Howard is frustrated.
It's not clear who these "playoff teams" are, but we do know that the Cowboys and Saints have previously inquired on Howard.
Photo courtesy of USA Today Sports Images.