The Heat have made two divergent decisions on two decorated NBA veterans who proved instrumental in their 2019/20 NBA Finals run.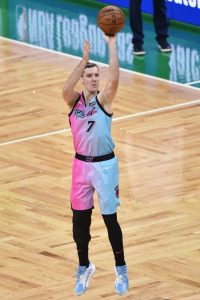 Miami has decided to pick up its $19.4MM team option on veteran point guard Goran Dragic for the 2021/22 season, per Anthony Chiang of The Miami Herald (Twitter link).
Picking up Dragic's option does not necessarily mean he is guaranteed to stick with the Heat this summer. As Barry Jackson of the Miami Herald notes (via Twitter), his contract could be incorporated to help match salaries in a big-money trade.
Andre Iguodala, meanwhile, will be hitting the open market. Adrian Wojnarowski of ESPN reports (via Twitter) that the Heat will not pick up their $15MM player option on the final year of the extension Iguodala inked with the club after he was traded from Memphis to Miami in the 2019/20 season.
Exercising Dragic's option likely means Miami will operate as an over-the-cap team, but Woj suggests (Twitter link) the club will still be a player in free agency, either by carving out cap space in another way or via sign-and-trades.
Raptors point guard Kyle Lowry, an unrestricted free agent this summer, remains among Miami's most-desired free agent additions. Woj notes (via Twitter) that Dragic's deal could be incorporated into a Lowry sign-and-trade with Toronto, while Marc Stein (Twitter link) refers to the Heat as the "favorite" to land Lowry and Barry Jackson of the Miami Herald tweets that Miami is a "very strong consideration" for the longtime Raptor.
As Bobby Marks of ESPN (Twitter link) observes, if the Heat could add Lowry via sign-and-trade, they'd still possess the $9.5MM full non-taxpayer's midlevel exception to sign a quality free agent and would be in position to retain restricted free agent sharpshooter Duncan Robinson, who appears to be in line for a major raise.