The Heat have officially acquired point guard Kyle Lowry from the Raptors via sign-and-trade, Miami announced today in a press release. Toronto received point guard Goran Dragic and big man Precious Achiuwa in the deal.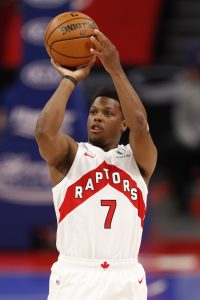 Lowry was one of the first free agents to make a commitment when the negotiation period opened on Monday evening, but it took all week for the details of the sign-and-trade to be confirmed. Dragic and Achiuwa were always believed to be part of the deal, but there were rumors that Dragic would be flipped to a third team or that the Raptors would receive additional pieces. Ultimately, it's just a two-for-one swap.
Lowry's new, fully guaranteed contract with the Heat was initially reported to be worth $90MM over three years, but it'll actually come in at $85MM, per Shams Charania of The Athletic (Twitter link). Miami would've needed to include more salary in addition to Dragic and Achiuwa for matching purposes in order to accommodate that $90MM figure, notes Blake Murphy of The Athletic (Twitter link).
The Heat, who have been after Lowry since at least the trade deadline in March, will unite the six-time All-Star with his close friend Jimmy Butler, who has agreed to sign a lucrative new contract extension of his own with Miami.
While a guaranteed three-year, $85MM investment is a risk for a player who is entering his age-35 season, Lowry has championship experience and is an ideal fit on virtually any roster due to his ability to handle the ball, knock down outside shots, and provide strong defense. He averaged 17.2 PPG, 7.3 APG, and 5.3 RPG on .436/.396/.875 in 46 games (34.8 MPG) in his final season as a Raptor.
"Kyle Lowry is a great leader and an exceptional defender," Heat president Pat Riley said in a statement. "As a point guard, he will bring important skills to run the offense, score the ball and defend with the very best."
The Raptors, meanwhile, still could theoretically flip Dragic to another team in the coming days, weeks, or months. However, Marc Stein reported earlier today that Toronto has "resisted external interest" in the Slovenian guard from the Mavericks and other teams.
Barring further trades, Dragic will join the Raptors' backcourt alongside Fred VanVleet, Malachi Flynn, and Gary Trent Jr., while Achiuwa will battle for minutes in a frontcourt rotation that includes Khem Birch and Chris Boucher.