Veteran forward Markieff Morris has agreed to a one-year deal with the Heat, reports ESPN's Adrian Wojnarowski (Twitter link). It'll be worth the veteran's minimum, according to Anthony Chiang of The Miami Herald (Twitter link).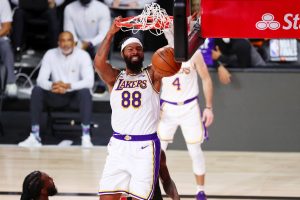 A report on Monday indicated that the Heat had made a contract offer to Morris. A day later, he has accepted it, becoming the latest free agent to make a commitment to Miami this week.
The Heat have focused on adding tough, savvy veterans, having reached deals with Kyle Lowry and P.J. Tucker in addition to Morris. The club also reached an agreement to re-sign sharpshooter Duncan Robinson and is bringing back center Dewayne Dedmon.
Morris, who figures to share minutes with Tucker at the four, spent the last two seasons with the Lakers, playing a rotation role on the championship roster in 2020. This past season, he averaged 6.7 PPG and 4.4 RPG on 4.05/.311/.720 shooting in 61 games (19.7 MPG). He's typically a slightly more reliable three-point shooter, having made 34.5% of his career attempts prior to 2020/21.
The Heat still have some of their mid-level exception and their full bi-annual exception available, but they don't have a ton of breathing room below their hard cap to fill out the roster, so they may prefer minimum-salary signings.