When longtime Heat president Pat Riley signed off on adding seven-foot center Omer Yurtseven to his roster last spring, it's safe to say The Godfather did his homework first.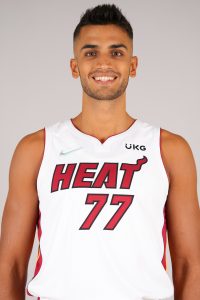 Yurtseven had been flying under the radar since going undrafted out of Georgetown in November. The Turkish center spent most of the 2020/21 season playing with Oklahoma City in the G League bubble, then signed with Miami in May. It didn't take long for him to impress those within the organization.
"I'm pretty blessed to have had that opportunity," Yurtseven told Hoops Rumors in a phone interview. "I was actually in Miami training after the Orlando bubble with the G League, and I just love the city and people. 
"It was such a right fit at the right time and everything just fit perfectly. I wouldn't say it was a coincidence. It was definitely a blessing. It was an opportunity at first, then it was all about just doing what I had to do: turn it into a bigger blessing."
The Heat signed Yurtseven eight days before they played Milwaukee in the first round of the playoffs. The timing allowed him to travel with the team and sit courtside for the series, giving him an up-close look at the intense postseason atmosphere.
His contract was a two-year, non-guaranteed deal that included a team option in the second season. When he signed, Yurtseven and his agent, Keith Glass, asked the Heat to decline his option after the season and give the big man a chance to bet on himself during Summer League.
The signing was made with a mutual understanding: join the team, play in the summer and work for a new contract. Yurtseven delivered in the California Classic in Sacramento, pouring in 27 points and 19 rebounds during his very first Summer League outing. He followed that game up with a 25-point performance on 9-of-17 shooting.
While his production dipped slightly after dealing with blisters, Yurtseven still managed to average 20.0 points, 9.7 rebounds and 2.7 blocks in three Las Vegas Summer League games.
"My performance dropped a little bit, but I just pushed through it because I wanted to play as many minutes as I could to be more involved in the system, understand how everything works, how the rotations work and how the offense works," Yurtseven said.
"Of course, it's going to be different with players such as Kyle Lowry and Jimmy Butler — just being around those players changes everything — but I was just getting a feel for the system, how our coaches want the sets to be run and the defensive schemes. I just wanted to take that opportunity and that's what I did. I played through the obstacles."
After successful Summer League stints in Sacramento and Las Vegas, the Heat rewarded Yurtseven with a two-year, $3.24MM contract. This season's salary is fully guaranteed, while next season becomes guaranteed if he remains under contract through June 29. Several other teams expressed interest in his services before he signed the deal.
When Yurtseven returned from Las Vegas, he took four days off to recover and reflect on his new contract. After that, it was back to work.
"We're already working for that third contract," said Miami-based trainer Ben Bellucci, who has worked with Yurtseven for several years.
Those around Yurtseven rave about his work ethic, professionalism and maturity at just 23 years old. Those are attributes the Heat look for in the players they sign, so it makes sense that the two sides came together.
"Look, Pat Riley's not going to bring in someone that's not going to work," Bellucci explained. "They don't bring in guys that are going to be problems on and off the court. I think it's a perfect fit, both personality-wise and culture-wise. I don't think he could've gone to a better place that's really going to push him."
The Heat have a strong reputation in player development. Kendrick Nunn and Duncan Robinson are two notable examples from recent years, but the list of players who've had their best years in Miami is long. Yurtseven is looking to become the team's latest under-the-radar gem.
"I think this organization has a way of raising players, of finding diamonds in the rough,'' Butler said at the start of his first season with the Heat in 2019 (hat tip to Justin Benjamin of HeatNation.com). "They're absolutely incredible at that. They're turning (Tyler Herro) into a real player. Everyone knows he has the talent, that mental edge about him, but teaching him how to work every single day, that organization is perfect for him."
Heat coach Erik Spoelstra also praised Yurtseven during the team's media day this week, which is noteworthy considering the big man has yet to appear in a regular-season NBA game.
"Omer is unique because of his skill set, shooting touch, around the basket and with range," Spoelstra said, according to Barry Jackson of the Miami Herald (Twitter link). "He has a feel you can't necessarily teach. Good instincts for rebounding."
Despite enjoying some success in the G League and Summer League, Yurtseven still has a long road ahead. He'll have to show he can learn Miami's system, rotate without fouling and defend the perimeter in a show-and-recover and switch-heavy NBA. Facing those challenges is part of his learning process.
"I think it's all about just following the guidance of the coaches and the veteran players," Yurtseven said. "Just taking it all in and absorbing it. They do a great job of developing players and have a reputation for that because of their system. Believing in it and going 100% is going to be the most important part.
"I think they just do a great job because of the commitment the players give and their ability to match it with intense workouts and basketball knowledge — how they know a certain player can fit into their system." 
Besides learning from his teammates and coaches, the big man also spent a significant amount of time watching film and working on his jump shot this summer. Yurtseven mentioned on Media Day that he and Bellucci studied film on superstar centers Joel Embiid and Nikola Jokic.
The pair also told Hoops Rumors that they watched clips of Carmelo Anthony and Hakeem Olajuwon, working on Yurtseven's low-post, mid-post and three-point game. Bellucci estimates Yurtseven took 20,000 shots per month.
"He's a kid who wants to get better. He's never satisfied," Bellucci said. "When you put him in a culture with the same mentality, it's hard for me to say that this kid doesn't have a chance to be an All-Star. He just has that work ethic and mentality. In order to be great, I think you always have to ask yourself, 'What can I do next? How can I get better? What can I add to my game?' And, on the Heat's side, you have no choice! You're coming in to work."
Yurtseven said he's been inspired by the stories of Robinson and Nunn, two undrafted players who found their footing in the league with the Heat. Robinson signed a new five-year, $90MM deal with Miami this past summer – the largest contract for an undrafted player in NBA history.
Former Pistons center Ben Wallace – another successful undrafted player – was recently inducted into the Hall of Fame, Yurtseven noted. The success stories act as motivation to continue improving, something Yurtseven says he won't stop doing anytime soon.
"I know the program and position that I'm in with being undrafted, but I think I have the talent to play at this level, the work ethic and the discipline," he said. "When you put all of that together, it matches perfectly with the culture of the Miami Heat. And, as I said, I don't think it's just a coincidence that these pieces came together. I now have the opportunity to be one of those inspirations."