Veteran big man Udonis Haslem will return for another season with the Heat, according to Ira Winderman of The South Florida Sun Sentinel, who says that an official announcement from the team is expected soon. It will be Haslem's 19th season with the franchise.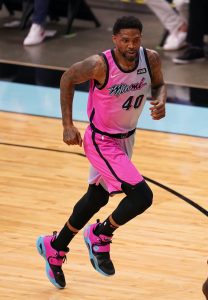 A regular rotation player in Miami when the team won championships in 2006, 2012, and 2013, Haslem hasn't appeared in more than 16 games or logged more than 130 minutes in a single season since 2015/16.
In 2020/21, he played just once, earning a cameo during the final week of the regular season. He memorably earned an ejection for a dust-up with Dwight Howard just three minutes after checking into the game.
Despite the fact that he no longer sees much action for the Heat, Haslem is a well-respected locker room presence who essentially has a standing invitation to continue signing minimum-salary contracts with the club until he decides to retire.
That day hasn't arrived yet. The 41-year-old will spend at least one more season in the NBA and, as Winderman points out, will become the 21st player in NBA history to play in 19 seasons as long as he appears in at least one game for the Heat in 2021/22.
Once Haslem officially signs his deal, the Heat will have 14 players on guaranteed contracts. Miami could perhaps use another guard or wing, but a 15th man would put team salary over the tax line, so it's unclear if the club intends to fill that spot, tweets Barry Jackson of The Miami Herald.
The Heat do have a pair of open two-way slots, which will likely be filled by undrafted free agents who impress the team in Summer League and training camp.