The Florida Panthers have worked out a deal with newly acquired Sam Reinhart, inking the restricted free agent to a three-year contract. Reinhart was acquired last month from the Buffalo Sabres in exchange for a 2022 first-round pick and prospect Devon Levi. Elliotte Friedman of Sportsnet reports that the deal will carry an average annual value of $6.5MM. GM Bill Zito released a statement on the deal:
Sam is a gifted and versatile talent that will play a key role for our team in the coming seasons. One of several players to commit to our organization with a multi-year contract this offseason, we are excited to see how these players come together and continue to build a foundation for success in South Florida.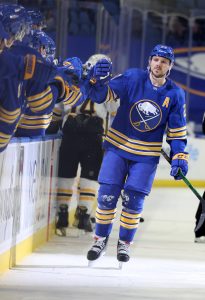 The three-year deal buys out two seasons of unrestricted free agency for the 25-year-old Reinhart, who already has six full campaigns under his belt in the NHL. Selected second overall in the 2014 draft (right behind teammate Aaron Ekblad and two spots ahead of teammate Sam Bennett), he has been one of the most consistent players for the Sabres over the years even as the team failed to have any success.
In five of his six seasons, Reinhart has recorded at least 22 goals and matched his career-high with 25 even in this shortened 2020-21 campaign. That 25-goal, 40-point performance is even more spectacular given the fact that Jack Eichel missed most of the year, meaning Reinhart was able to create that kind of offense almost on his own in Buffalo. The next highest goal total on the Sabres was Victor Olofsson's 13, not offering a ton of opportunity for Reinhart to rack up assists.
That will certainly change in Florida, where he could very well line up beside Aleksander Barkov for parts of the year. That is of course unless they use him as a full-time center, something he never really did in Buffalo. Either way, the number of talented forwards that will surround Reinhart will be in stark contrast to what he had with the Sabres, which could very well lead to a career year.
He's certainly getting paid for that upside though, as Reinhart is suddenly earning more than any other forward–including Barkov–on the Panthers. That would have likely been the case even if he went through the arbitration process though, as he was due a $5.2MM qualifying offer and had an outstanding case given his consistent offensive numbers. Even if it's a bit weird for him to be the most expensive forward on the team, it likely will only be for one season. Barkov is scheduled for unrestricted free agency in 2022 and will need a huge extension, while Jonathan Huberdeau is also only signed for two years.
With all of their restricted free agents now signed, Florida is still nearly $2MM under the cap ceiling. The team could potentially even add more depth, or continue to accrue room to make a splash at the deadline.
Photo courtesy of USA Today Sports Images