Just moments after announcing that Andreas Johnsson will miss six months following surgery, the Toronto Maple Leafs have potentially replaced him in the lineup. Toronto has acquired Denis Malgin from the Florida Panthers in exchange for Mason Marchment. According to Pierre LeBrun of The Athletic, Malgin had asked several times for a trade out of Florida.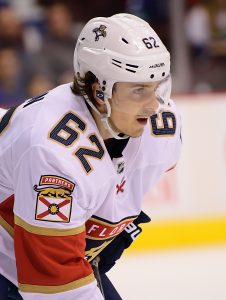 Not only does Malgin bring a bit more skill to the Maple Leafs' group, he's also a familiar face for one of their brightest stars. Auston Matthews was a teammate of Malgin during the 2015-16 season with Zurich of the Swiss NLA. It's hard to imagine the two playing on the same line in Toronto, but after head coach Sheldon Keefe has repeatedly called out his bottom-six for not producing enough of late, there will be opportunity for the former Panther to find playing time.
Malgin, 23, has just four goals and 12 points in 36 games for Florida this season, but has at least shown an ability to compete at the NHL level. The same can't really be said for Marchment, who despite being more than a year older has just four games under his belt with the Maple Leafs. The son of a former NHL defenseman, Marchment went undrafted but was developed by the Toronto organization into a physical forward that can contribute some offense at the minor league level.
In terms of cap implications, Malgin actually carries a slightly lower hit this season at $750K but would require waivers to go to the minor leagues. He is also a restricted free agent at the end of the year with arbitration rights, though his production so far would not warrant much of a raise. Marchment, who was sent back to the Toronto Marlies yesterday, is waiver-exempt for this season but will also become an arbitration-eligible restricted free agent in the summer.
Photo courtesy of USA Today Sports Images